KONA ELECTRIC
Pedal-Assist Bikes Take You Further
Call it adventure-assist, training-assist, distance-assist, or access-assist. Call it whatever you want, but our pedal-assist bikes will help get you there. Our all-new Remote 160 brings Process geometry and feel to our electric lineup. We've got bikes for parents hauling kids and cargo, weekend adventurers looking to cruise the gravel paths, hardcore adventure riders, and hard-core commuters. With a multitude of accessories and configurations, you'll be well prepared for whatever the road, trail, or commute throws your way.
It's Electric!
Kona dipped a toe into eBike land way back in 2010 with THREE electric bikes in the Electric Ute, Token, and Ticket. While we may have been a little ahead of our time, we knew that electric bikes were a big part of the future. Fast forward nine years and we're forging a path for electric bikes in all facets of cycling, whether hitting the road or exploring deep into the backcountry. We believe in bikes—all bikes— and we believe that if an electric bike gets you out riding, it's serving a great purpose.
We offer a selection of electric bikes that run the gamut of cycling disciplines. From big mountain days to commuting with your kids in-tow, we've got you covered. We've partnered with Shimano and Bosch to ensure our electric bikes run the best motors possible for power to efficiency.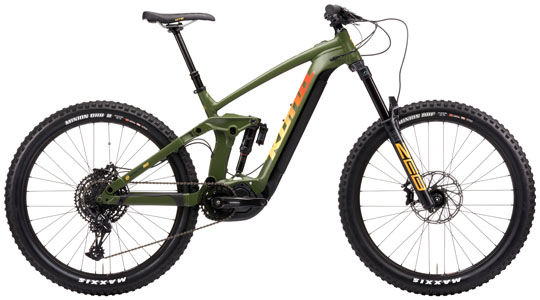 
Remote 160
$5999 USD
MOUNTAIN ELECTRIC All Mountain Enduro Gravity 27.5"+ Dual Suspension 140-160mm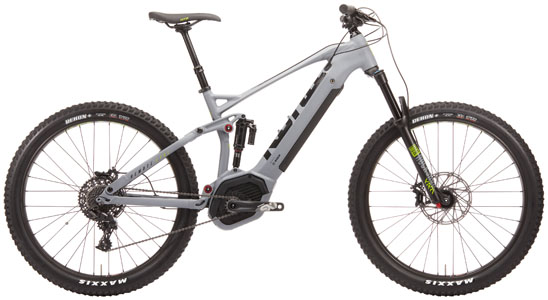 
Remote CTRL
$4999 USD
MOUNTAIN ELECTRIC XC All Mountain Enduro 27.5"+ Dual Suspension 140-160mm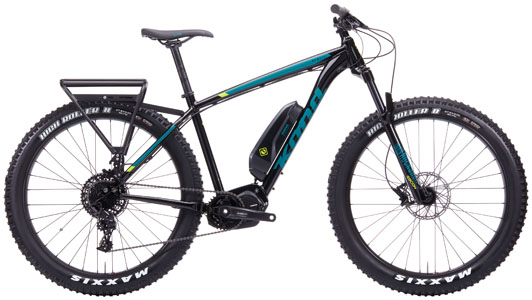 
Remote
$3799 USD
MOUNTAIN ELECTRIC XC Utility 27.5"+ Hardtail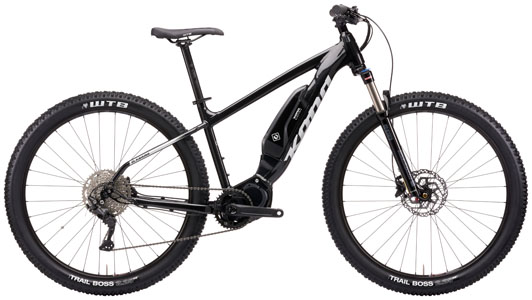 
EL Kahuna
$2899 USD
MOUNTAIN ELECTRIC XC 29" Hardtail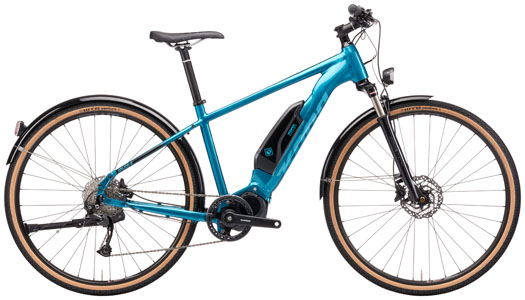 
Splice-E
$2899 USD
URBAN ELECTRIC Crosstrail Commuter 700c Hardtail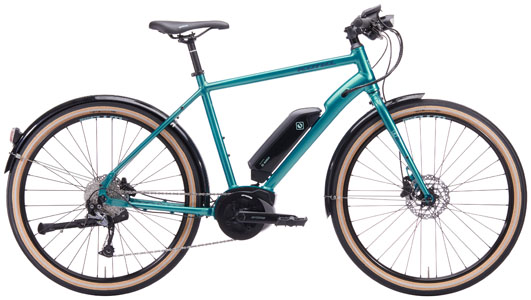 
Dew-E
$2999 USD
ROAD ELECTRIC Commuter 650b No Suspension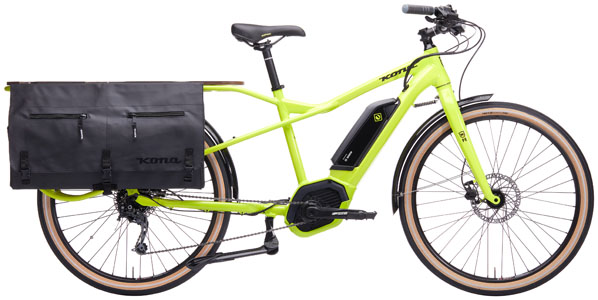 
Electric Ute
$3999 USD
ROAD ELECTRIC Commuter Utility E-Bike 650b No Suspension
FAQ




What is the range of the battery? What affects performance and range?

Shimano STEPS-equipped eBikes ridden on generic city roads have a range of up to 150km on a single charge. Mountain bikes equipped with the Shimano STEPS E8000 have a range that tops out at 100km. Several factors affect performance and range including hilly terrain, rider weight, load weight, strong headwinds, and colder temperatures.





Does rider weight affect the range of the battery?

A heavier rider will have less range than a lighter rider, but this is just one of many factors that determine the range of the battery. Temperature, wind, and incline are also a factor.





What is the best way to store a battery long-term?

Batteries should be stored in a cool, dry indoor location with a stable temperature between approximately 10 to 20 degrees C or 50 to 60 degrees F. Keep batteries out of direct exposure to sunlight. Batteries should be charged to around 70% before storing. Every six months charge the battery back up to around 70%. Before using the battery again after a long storage, recharge the battery up to 100%.





How long does it take to charge the battery?

A full charge takes about 7.5 hours. An 80% charge takes about 6.5 hours. Your bike comes with a 2A charger. Both Bosch and Shimano offer 4A chargers, which reduces charge time significantly.





Can the battery be charged off the bike?

The battery can either be charged on the bike or off the bike with the provided adaptor.





How many cycles will the battery last?

After 1,000 charges, the battery will still charge to 60%.





What kind of batteries are used?

Kona eBikes are equipped with genuine Shimano or Bosch batteries. Both are lithium-ion batteries.





Does pedaling recharge the battery in the same way driving a car charges a car battery?

No. The battery is only charged by plugging it into an outlet.





For eBikes that have front and rear lights, will they still work even if the battery is dead?

Yes. While the motor and the lights pull from the same battery, the battery has a reserve set aside so the lights can still function even if the motor is no longer pulling from the battery.





What does pedal input mean?

Pedal input is when the rider engages the pedals and the bike moves forward. Bosch and Shimano eBike systems can sense pedal input and they are designed to compensate with assistance. This means you'll get a bit more power out of your pedaling, depending on what mode you're in (eco, turbo, etc). You'll feel it immediately if the power is on, so hang on tight!





What kind of terrain is best suited for eBikes?

Electric bikes can be ridden just like non-electric bikes. All Kona eBikes are Class 1, which means they are pedal-assist and can be ridden where Class 1 eBikes are allowed. This changes from region to region, so be sure to check your local riding area to see if there are any Class 1 eBike restrictions. As for specific terrain, Kona city eBikes are great all over town and our electric mountain bikes can tackle the toughest singletrack or your favorite cruisy gravel paths.





How fast will the bikes go?

In North America, class 1 eBikes are limited to 20 MPH. In Europe, eBikes are limited to 25 KPH. The bikes can travel faster than these speeds, but the assistance cuts off at those limits.





Does the bike have a throttle?

No. All class 1 eBikes (all Kona eBikes are class 1) are without a throttle.





How do I get replacement keys?

You were provided a unique code when you received your keys. You can contact Abus with this code and they can send you a new set of keys. Be sure to store this code in a safe place.





Can I ride my eBike in the rain and snow?

Yes, just don't go swimming with it. In all seriousness, our eBikes are weatherproof, but they are not intended to be submerged under water.





Can I wash an eBike with a hose like I would a normal bike?

Like washing a normal bike, we suggest using a regular hose and not a pressure washer. Please leave the battery IN when washing your bike, as it protects connections and small parts that aren't intended for direct contact with water. Just like any bike service, be sure to keep connectors clean and dry after washing.





What is the difference between the Bosch and Shimano systems?





What are the pedaling modes on the bikes?

For bikes with a Bosch system the modes are:

Eco- provides very minimal pedal assistance. Batteries last the longest in this mode.
Tour-provides slightly more noticeable assistance
Sport/eMtb-similar to how automatic cars work, this mode senses rider input and shifts between modes so you can focus on pedaling and not toggling between modes.
Turbo-provides maximum assistance that makes steep climbs feel significantly easier. This mode uses the most battery power.

Bikes that use the Shimano system have the following modes:

Eco-provides very minimal pedal assistance. Batteries last the longest in this mode.
Trail-similar to how automatic cars work, this mode senses rider input and shifts between modes so you can focus on pedaling and not toggling between modes.
Boost-provides maximum assistance that makes steep climbs feel significantly easier. This mode uses the most battery power.
Shimano systems offer customization of modes with their Bluetooth app.





What does the Bluetooth functionality do?

Shimano eSteps motors feature Bluetooth functionality. This allows the riders to use their eTube app and eTube ride functionality and customize your bike's settings. It also supports 3rd party displays with the addition of the ew-en100 junction. There is no Bluetooth functionality with the Bosch components on Kona bikes.





Can I upgrade any part of the system after it's purchased?

You can buy spare batteries. For additional upgrades, please refer to Bosch or Shimano to check compatibility with their systems.





How does the Control Center work?





Where can I get replacement parts?

Please contact Bosch or Shimano directly, or your local Kona eBike dealer for replacement parts.





What's the advantage of mid-drive motors and batteries?

Mid-drive motors keep the bike's weight lower and more centered. This provides more predictable handling and better overall ride experience.





Do the bikes come with a "walk" mode? What does that do?





Can I fly with my eBike on an airplane?

You can fly with your bike and NO battery on most airlines. Batteries are a different story and this answer varies from airline to airline but in general, airlines do not allow the transport of lithium-ion batteries with a capacity greater than 100Wh, which would be a no-no for eBike batteries. Therefore, you should inquire with your airline before planning your trip. Most likely, you will have to arrange a battery at your destination if possible or ship the battery separately following the regulations for hazardous goods Class 9.





Can you really get exercise with an eBike?

Yes. You get out what you put into it. There are various modes for a reason. If you ride full-time on eco mode, you will get a fantastic workout. If you ride full-time on boost, you'll get less of a workout. The point is to use the assist where it best suits you. Maybe that's all the time, or maybe that's rarely, but like most sports, you get out what you put in.





What is torque and why is it important with regards to eBikes?

With regards to eBikes the higher the torque, the more assistance the rider gets while pedaling. It's often recognized as the immediate feeling of quick acceleration when pedaling. Torque is measured in Newton-meters (Nm) and describes the rotational power of the motor that is used to assist the rider while pedaling. All class 1 eBikes are limited to 250 watts but can vary in torque. Our bikes feature motors with torque ranging from 50Nm to 75Nm.





Are there any warnings or anything I should be aware of?

Ride the bike as it was intended. Riding a tuned or chipped EMTB is not a trivial offense and can have serious legal consequences. Also, many manufacturers can detect the use of a tuning device or microchip and may decline a repair under warranty if it was modified from the intended original specification. Derestricting EMTB's can also add increased loads for motors and batteries. Riding above the local law limit may reclassify the bike as a low-powered bike, requiring insurance, registration and a number plate.

Be aware of your local country laws. Many laws prohibit the use of modified EMTB's. It is your responsibility to check local laws. Ignoring them has potential implications for trail access, and risk of prosecution in the event of an accident.
External resources
Shimano Steps info
Bosch eBike systems